New AGC Property Centre Sunnybank Branch Office Now Opened!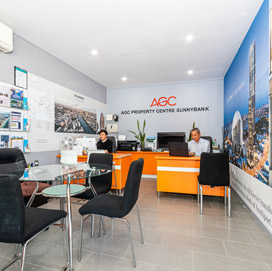 We take great pleasure in announcing the opening of our new branch at Sunnybank, Brisbane in order to cater to the increasing demands of our customers. We promise to maintain the same quality of service and deliver everything that our patrons need.
This new venture has been made possible by your immense support and continued interest in our business. We wish to be at the receiving end of the same even in the future.
Learn more about our services:
Residential Sales 


From exclusive new apartments to individual luxury homes, we're trusted with some of the most desirable Australian properties on the market.
Commercial Sales


Looking for Commercial Properties for sale in Australia? Trust the experts. Our team is driven by one distinct purpose: to ensure that you achieve the results you want with satisfaction and confidence.

Property Development


We understand the human side of property, and everything we do is about making a real difference to people's lives and caring deeply about how they will benefit. Chat to us about your investment property queries.

International & Domestic Travel


From planning holidays, to discounts on travl packages and even tips for your next road … Our team of travel specialists are ready to help you with your next adventure.
You are, hereby, cordially invited to the inaugural ceremony, with friends and family. Final date will be announced soon.
AGC Property Centre Sunnybank Pty. Ltd
Sunnybank Branch Managing Director: Ms. CAM HONG TANG
Phone: 07 3191 9301 (Calling in Australia) | +61 (07) 3191 9301 (Calling outside of Australia)
Email: info@agcsunnybank.com.au
Address: Shop 11B /341 Mains Rd, Sunnybank QLD 4109 (Opposite Yuen Market at Market Square)